543

wind turbines built

1222

MW

of installed capacity

2.96

million

people supplied with electricity
Our energy comes from nature
The energy transition has long since enjoyed a tailwind in Germany and Europe. A key driving force: nature. A reliable partner for more than 30 years: BOREAS.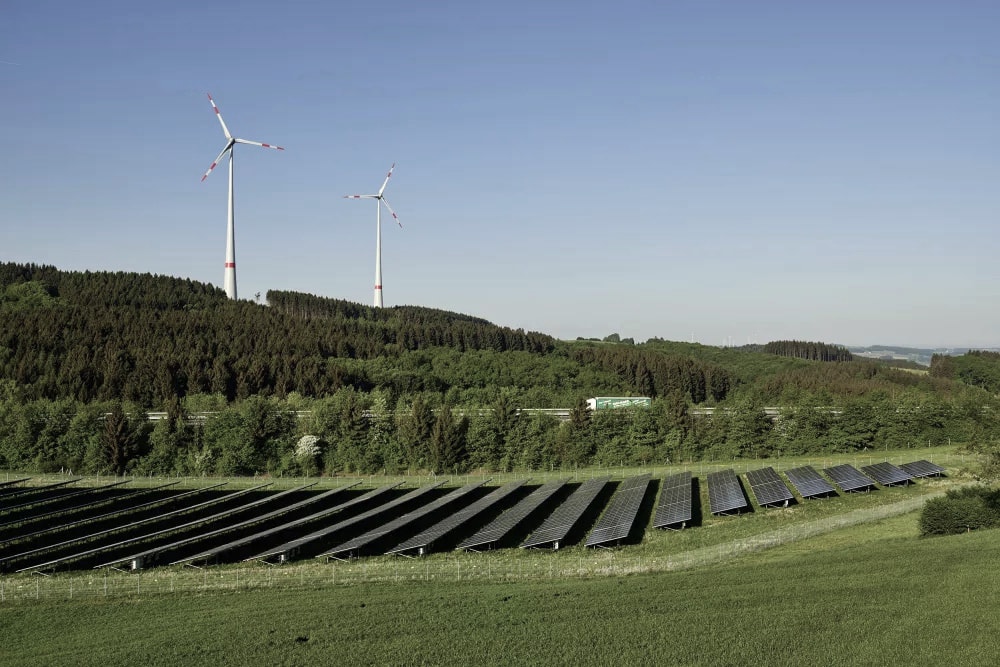 BOREAS plans, builds, finances, operates, and markets wind power, photovoltaic, biogas, and energy storage installations throughout Europe. Our motto: produce renewable energy where it is needed. Those who sow wind plans with us now will reap the benefits of wind power in the future.
Communities, farmers, and companies know us as a fair partner, advisor and supporter of environmentally friendly and independent power generation. Our investors value BOREAS as a dependable partner, and our employees regard us as an attractive employer offering exciting perspectives and projects, even in turbulent times.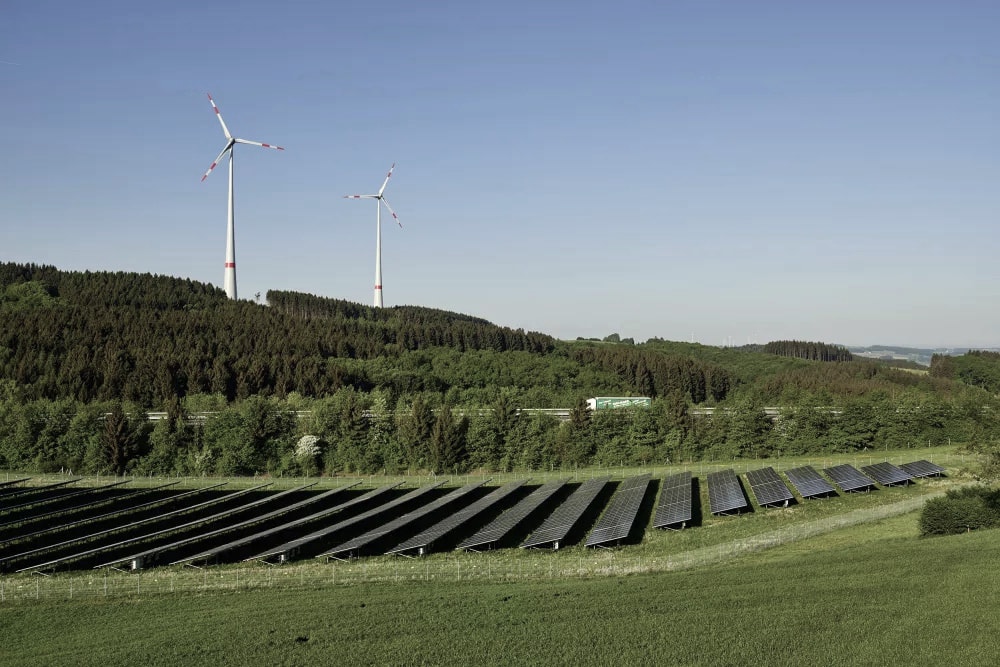 With regions, communities and people in mind
BOREAS is working together with communities, towns and many partners to get the turbines of the energy transition spinning in Germany, Europe and worldwide. In this way we are able to successfully reconcile ecological and economic goals and build installations that are future proof and ensure security of supply. We are cooperating with people and companies from the region, farmers are benefiting from the sustainable electricity, and communities are joining us on the path to energy independence.
Understanding of regions and interests
Different interests collide on the topic of renewable energies. The desire for ecological energy production runs up against the commitment to preserve nature and the landscape. At the same time, both aspects must be reconciled with financial interests. This isn't always easy – but it's always doable. We see our role here as a moderator and a finder of solutions so all those involved feel they are understood and that their concerns are taken seriously.
Our services
From the first reliable handshake to the commissioning of the installation: BOREAS is your partner on the road to 100% environmentally friendly energy supply from wind and solar. We are responsible for the entire support and implementation, or specific parts, including the following services:
Your partner for the 1,000 things in a project
Everything begins with an idea – even as unconventional as it might first appear – and ends with a turnkey project. However, for this to happen, the planning must be right. That is why we take care of everything from acquiring the land to obtaining the commissioning certificate. Accurate accounting and billing according to the feed-in tariff, digital data collection and analysis, coordination with authorities, financing, customs consultations, transport, assembly, operation of installations – there are a thousand things to keep in mind in terms of project management when constructing installations. We know them all and implement them for you.
We love it when a plan comes together
We are planning for a rescue mission. Predictions say that, in the long term, the only way to stop climate change and secure the future of generations to come is to switch to renewable energies. We must thus let the sun, water, biomass, and the power of the wind work for us. Good idea – and BOREAS assures the planning. We find the perfect location for wind turbines, ascertain ownership rights, secure the rights to the site, resolve any construction-related legal issues, and support a project until it stands securely in the wind or has a place in the sun. In this way, we have been contributing since 1990 to pushing the geographic boundaries of wind energy usage to the south by several hundred kilometres – from the coasts to the interior.
Financing the most natural thing in the world: energy
The truth is that the world needs the energy transition. However, it is also true that investments must pay off. That is our job. Our experienced financial experts arrange attractive financing and calculate the economic viability of a project. We make assessments of potential sites, set up wind measuring masts, calculate the predicted energy production, submit bids for invitations to tender, and obtain financing offers from banks. You can also rely on us for the management of certifications, credit and collateral agreements, and permits. We ensure that projects and partners have substantial financing, long-term profitability, and low operating risk and thus turn renewable energy into an attractive investment.
Your trust is good. Our control is better.
Our customers and partners have placed their trust in us for more than 30 years. That is not only a great honour but also a huge responsibility to provide exact control of all processes from the beginning of an installation project to its completion. That is why BOREAS reviews the planning documents and offers support during tenders and contract award negotiations. After the contract has been awarded, we ensure the engineering planning, coordinate the contract work sections during implementation, monitor the progress of construction, and keep a close eye on the schedule and costs. This is how you build trust – with our professional construction management.
A strong grid? You can rely on us.
Our wind farms and solar and biomass power plants generate more than 2.5 terawatt hours per year. This meets the power needs of 2 million people in Germany for one year.
To do this, we must plan the installations in accordance with all the technical rules and standards and connect them to the grid. We plan all the distribution and transmission systems from the place of production to the entry point. We also define sites for substations, transformers and cable laying and calculate the dimensions of the electrical installations. We then coordinate and monitor the actual process of connecting to the grid up to commissioning and secure the feed-in permit. Regional public utilities and energy providers are glad to have BOREAS – for after all, it's thanks to us and our partners that they can provide their customers with 100% natural electricity.
Work for the big moment
Finally, all the permits have been obtained, the installations are under contract, the wind farm cabling is done, and the transformer has been delivered. The foundations have been placed correctly and laid properly according to building laws, and the low-loaders have brought the wind turbines to their final destination. The wind turbine now stands. It just needs to be connected to the grid and it can start feeding in "clean electricity". Another milestone for a clean environment and the future of coming generations. Besides the use of wind power, another light dawns on us: sunlight. Day after day, the sun sends us unlimited amounts of energy, free of charge, which can be converted into electricity and heat by our photovoltaic systems. In this way, BOREAS provides the region with sustainable energy and makes the world a little greener.
Economics and ecology? A good team.
Those who invest in a sustainable project also want to ensure an adequate return. That is why BOREAS only develops wind and photovoltaic installations where it is worthwhile to invest thanks to ideal wind conditions and hours of sunshine. To put it dryly, this is referred to as "minimised investment risk". The BOREAS strategy behind this approach is to work together with investors and partners and generate reliable economic returns. This builds trust, and many investors have been loyal customers of ours for more than two decades. We have been in the business for 30 years and know how to plan and build in such a way that, in the end, all those involved benefit from a project. Our investments in renewable energies pay off.
Because every installation must be commercially viable.
Elements on the technical side can only function and work in harmony if they are properly interconnected like the gears of a fine watch. The same goes for operating an installation. Here the elements are the financial interests of the operation on the one hand and the organisational and economic requirements on the other hand. The link between these two is the commercial management of BOREAS. We make sure that operators and investors can rely on energy yield predictions and that service and maintenance contracts are adhered to in accordance with the contract. With partners like insurance companies and energy providers, we coordinate the cooperation, negotiate contracts in the interests of the operator, and keep a close eye on the economic viability of each installation. Thus, together with the technical management, we maintain the security of investment of a wind power or PV installation.
Keeping ourselves fit and ready for service
Imagine a world without people. Wind turbines would have to cease operations sooner or later without continuous maintenance, upkeep, and repair. Is that putting it too dramatically? But this is exactly what would happen to each installation if BOREAS didn't prevent it through technical measures. Because wind, weather, and wear take a toll on every installation. In order to manage faults, we monitor and maintain all installations and grid components. Our BOREAS team keeps itself fit, trains for every kind of problem, and is ready to go whenever there is an installation to maintain or a failure to repair. This is often work that has to be done at dizzying heights, with which we ensure plant safety in accordance with all regulations and the profitability of a wind turbine for decades to come.
Team spirit combined with individual initiative
Perfectionism is in our DNA. For no matter how well a project is going – there is always something we could do better the next time. That is our driving force. We are therefore looking for people who, like us, are hungry for the next innovation, the next flash of inspiration, and the next boundary to be overcome.
What we offer
As a diligent team we advocate the production of sustainable energy. We also treat our employees in this same sustainable manner. We provide them with a smooth start and are firm believers in flat hierarchies and short lines of communication. Long-term job prospects with attractive compensation and flexible working hours are common practice. And to top it off, you get to work on very exciting energy projects.
Long-term prospects
Permanent contracts
Motivated team
Further training opportunities
Flexible working hours
Innovative business culture
Team and sporting events
Health promoting offers
Have we sparked your interest?
Then send your application documents including your salary expectation and the soonest date you can start by postal mail or email to:
BOREAS Energie GmbH
Moritzburger Weg 67
01109 Dresden
Germany